SHANGRI-LA
Our intrepid explorers have done it again!
They have returned to HS Towers, tired and weary, khakis ripped and pith helmets slightly the worse for wear, from an arduous expedition in the far east. There, they discovered an ancient machine buried deep in a derelict temple in the Kunlun mountain range of the Tibetan plateau. This immediately proved ideal to re-purpose for Matthias Schuster's Tibetan bowl samples.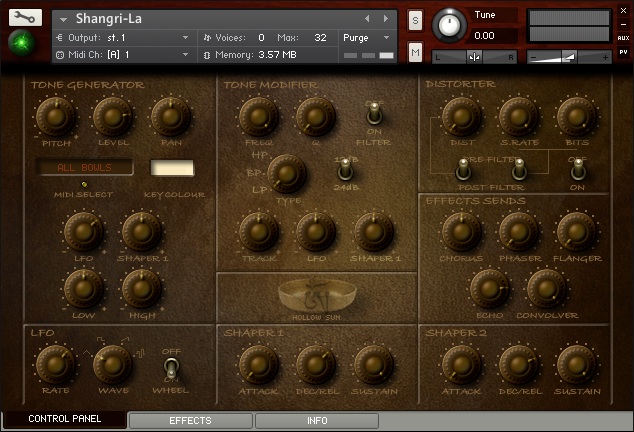 With 61 different bowl samples of varying kinds and sizes and made of copper and bronze, there is a remarkable amount of tonality in their own right. However, each one is individually editable with each sample able to be tuned and EQ's and filtered by the multi-mode filter and shaped by two envelopes as well as modulated by an LFO and and envelope. Distortion and bit crunching round off the sonic processing for each of the samples before being passed to the multi-effects...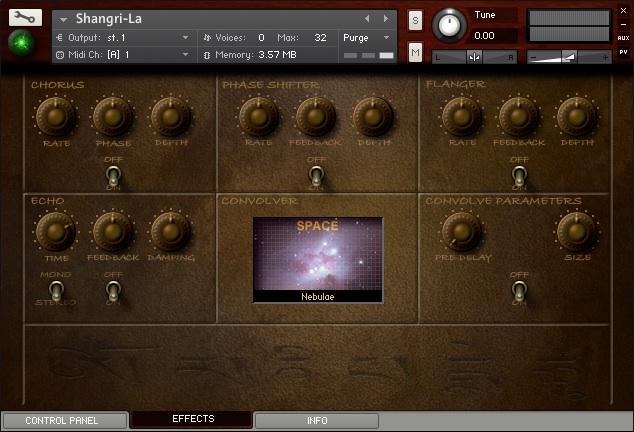 With chorus, phase shifting, flanging, echo and convolved reverb with a wide range of impulses, the effects complete the processing to transform the raw samples.
Although this is something of a slight departure from other MLMs in the series with samples of acoustic instruments, the organic, naturally 'ring modulated', inharmonic tones of Shangri La will complement the others in the series with the atonal nature of the raw samples.
But don't expect solid basses and soaring leadlines - this is one for abstract soudscapes ... or a sound in a regular track that will make people ask "What the hell was that?" as its subtle impact is felt. This really is a sublime soundset for anyone looking for something out of the ordinary.

---
| | | |
| --- | --- | --- |
| CREDITS | | |
| Samples | : | Matthias Schuster |
| Sample Editing | : | Hollow Sun |
| Scriptmeister | : | Mario Krušelj |
| Programming | : | Hollow Sun and Mario Krušelj |
| GUI design | : | Hollow Sun |
| Graphics | : | Hollow Sun |
| Audio Demos | : | Hollow Sun |
---
SYSTEM REQUIREMENTS
Kontakt 4.2.3 full version
Windows® XP (SP2, 32bit) / Vista® (32/64 Bit), Windows 7® (32/64 Bit), Pentium® or Athlon XP 1.4 GHz, 2 GB RAM
Mac OS® X 10.5 or higher, Intel® Core™ Duo 1.8 GHz, 2 GB RAM
---
NOTE : It will work with the Kontakt Player but only in 'demo' mode and the session will be time limited.
---
These are gorgeous. Thank you. Great work as always.
George - via email
---
You guys have really created a nice arsenal for old time electronic musicians like me.
Bob - via email
---
Thanks for your fantastic inspirational machines.
Phil - via email
---
Massively inspiring instruments you make there!
Kubilay - via email
---
It's sounding really beautiful.
Bill - via email
---
Just wanted to say that I have them all and have just picked up Shangri La. I don't even bother to listen before purchase anymore as it spoils the fun when loading up for the first time.

Thanks so much for amazing tools and ridiculous prices ;o)

Keep 'em coming


David - via email
---
Another great set, thanks!!
Per - via email
---
Although this isn't an electronic instrument this could be your best yet. The sounds are so haunting and there's so much you can do with them.
The GUI is up to your usual standards as well. I don't know how you make such fantastic instruments at this price but I'm not complaining.
Steve - via amail
---