ADVANCED NOISE GENERATOR
Sometimes, you just can't have enough noise. For special effects, sound design, atmos, drum and percussion sounds, sweeps, etc., noise is such an invaluable tool.
Sadly, these days, noise is something of an afterthought on many synths with just one paltry selection and with today's software based synths generating it digitally, it's just not the same as true analogue noise, it's pseudo-random noise based on mathematical algorithms.
True analogue noise is created using a zener diode which is biased into breakdown to produce truly random noise. Another method is to use a transistor wired so that its emitter-base junction is reverse biased which does much the same as a zener diode.
It seems daft but analogue noise does have an appreciably 'weightier' quality to it than virtual analogue noise, even though they may 'look' essentially the same on a 'scope or in a wave editor.
The Advanced Noise Generator provides all this and more...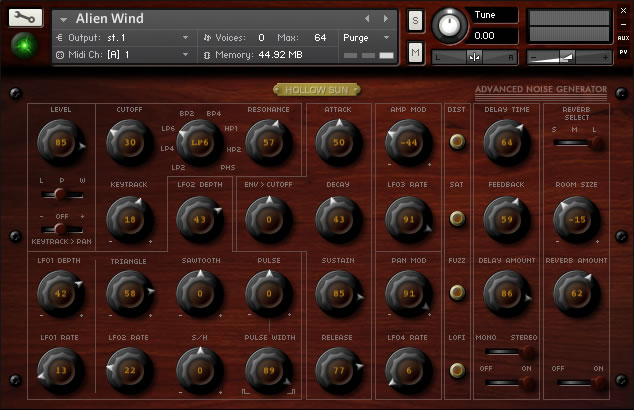 White, pink and low frequency noise are available ...
... and each of the samples is over two minutes long meaning each noise colour lives and breathes true analogue before seamlessly looping into an almost equally long loop. These then pass to a multimode filter offering 2, 4 and 6-pole lowpass, 2 and 4-pole bandpass, 1 and 2-pole highpass and a phase shifter. These are modulated by two LFOs, one offering a simple sine wave, the other offering simultaneous triangle, sawtooth, variable width square and random waveforms for complex, non-cyclical filter sweeps. The modwheel can also be used to modulat the selected filter type's cutoff frequency. There are also separate LFOs for amplitude modulation and pan modulation. Together, these provide all sorts of possibilities for radom, abstract noise soundscapes that are ideal for soundtrack work ... and that's before they pass to the various distortion units and the delay and convolution reverb.
Furthermore, the Advanced Noise Generator has a life of its own with the 'Serendipity' button - click on the Hollow Sun logo to have the thing generate its own sound at random. In fairness, the results might be unpredictable and chaotic but they're a good starting point for inspiration to tweak and refine to your needs. In fact, some of the 40 presets started off using the 'Serendipity' button - some used 'as is', others modified into something interesting and useful.
The Advanced Noise Generator takes over where most synths fail. Back in the pre-synth days of early electronica, they used dedicated noise generators like the one below for their esoteric sound effects...
These would be processed through equalisers, rudimentary filters, tape delays, etc.. Many of the early sci-fi films' and TV programmes' (yes - including Dr Who!) sound effects were created this way and often, some early electronic music studios built their own simple circuits.
The ANG offers much the same and more with its wide array of filter, modulation and distortion options. It's suitable for almost any modern musical genre with its noise sweeps, SFX and the various distortion units let the ANG venture into the realms of IDM..
Granted, the ANG might not be the first port of call for your #1 hit parade topper but this is truly a sound designer's wet dream of noise making possibilities.

---
| | | |
| --- | --- | --- |
| CREDITS | | |
| Samples | : | Hollow Sun |
| Sample Editing | : | Hollow Sun |
| Scriptmeister | : | Mario Krušelj |
| Programming | : | Hollow Sun and Mario Krušelj |
| GUI design | : | Hollow Sun |
| Graphics | : | Hollow Sun |
| Audio Demos | : | Hollow Sun |
---
SYSTEM REQUIREMENTS
Kontakt 4.2.4 full version
Windows® XP (SP2, 32bit) / Vista® (32/64 Bit), Windows 7® (32/64 Bit), Pentium® or Athlon XP 1.4 GHz, 2 GB RAM
Mac OS® X 10.5 or higher, Intel® Core™ Duo 1.8 GHz, 2 GB RAM
---
NOTE : It will work with the Kontakt Player but only in 'demo' mode and the session will be time limited.
---
Just finishing up my short Australian tour with Spectra recording artist Nadia Ackerman. We played Sydney, Melbourne, Adelaide and Perth. 8 shows in all and a bunch of radio. The reason i am writing is i have to tell you once more how good it feels working with the Hollow Sun products.
Tri Osc, 130p, and Cognosphere also made profound appearances as did INIL Choir. More than one front-of-house sound engineer looked at me with crooked eyes and said "is that supposed to sound like that?". I know i'm doing my job well when i get this response.
All hail Hollow Sun.
Harvey Jones - noise maker with Nadia Ackerman (solo artist and BV for Sting, Billy Joel, James Taylor and others)
---
Bought it.

Love it.

Another great bit of kit which is easily establishing it's place in my collection of MLM's and other HS products.

Presently running a crazy bassline using the Bass6 and a lovely filtered wind on the ANG (why do I want to snigger when I say filtered wind?) and it's dog's donuts material.
Neil - Geigertek

---
Great! Some new HS widgets to play with, I love it! Anything that sounds diferent, crazy and a bit like a broken radio is nummy-num goodness to me. They are too cheap Steve, you spoil us!!!!
Crawford
---
Another great MLM Steve. Well done.
Alex
---
Love it. Fantastic fun but excellent sounds. Another good job.
shlusmox
---
I'm really enjoying this one. Just got it and it's a wonderful addition to the other MLMs. Thanks.
Joshua
---
I just wanted to say how much I love your products. The sounds are incredible and the GUIs go way beyond what one would expect. I use a Hollow Sun sound in almost every track I make now.
Thanks again and keep up the good work.
Kemek (aka Adam Douglas)
---
Fantastic. I have been playing around recently with the noise generator and filters in NI -- Massive and this has stopped me in my tracks with a perfect sense of timing. Now I'll be playing with this instead.

I love what you do.
---